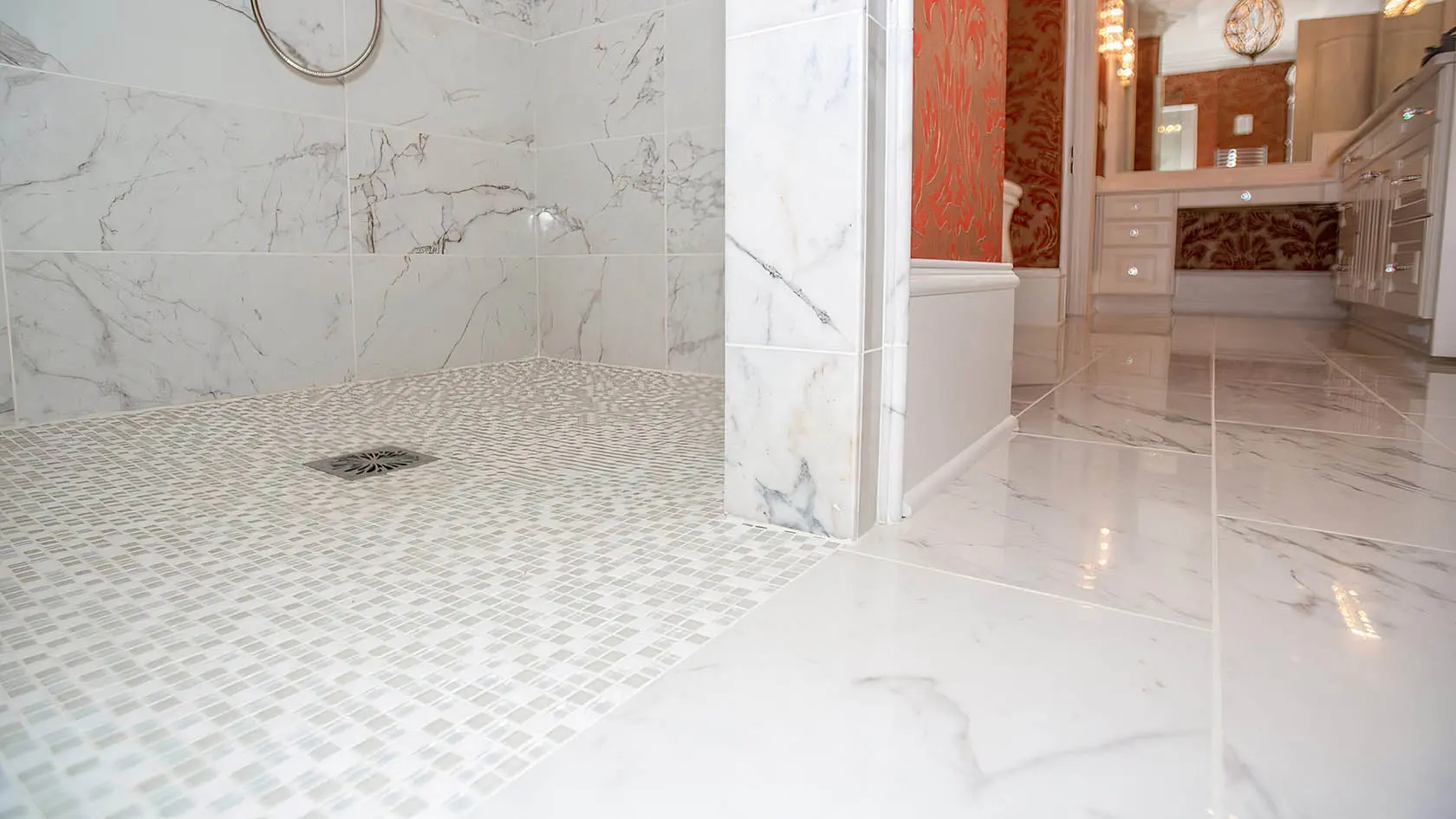 Level Entry Shower
Elegance Meets Accessibility
Get a Consultation
Make Your Dreams Come True
---
– or –
CALL NOW: (803) 396-3908
Upgrade Your Walk-in Shower System
Where Elegance Meets Accessibility
Fully Customizable- Our 60″ x 48″ shower pan can be field-cut to virtually any size or shape desired, and can be extended to fit larger showers using quick dry patch material.
Easy-to-Install- The patented VIM Level Entry Shower System™ comes with a 7/8″ thick shower pan that enables Curbless Shower construction without installers having to cut, notch, or lower the structural supports beneath the shower.
Shower Pan- Our compression-resistant pan is constructed from recycled ABS plastic and is pre-sloped at 1/4″ per foot to a center drain location.
Waterproofing- The liquid waterproofing supplied with our shower system is applied in conjunction with our isolation fabric to create a high-quality, anti-fracture membrane that will give years of trouble-free showering.
Protection- Our drain system was engineered with a series of weep holes to allow any water that penetrates the shower floor tile to quickly drain back into the waste system. This small but effective feature greatly diminishes the opportunity for mold and mildew to form under your tile.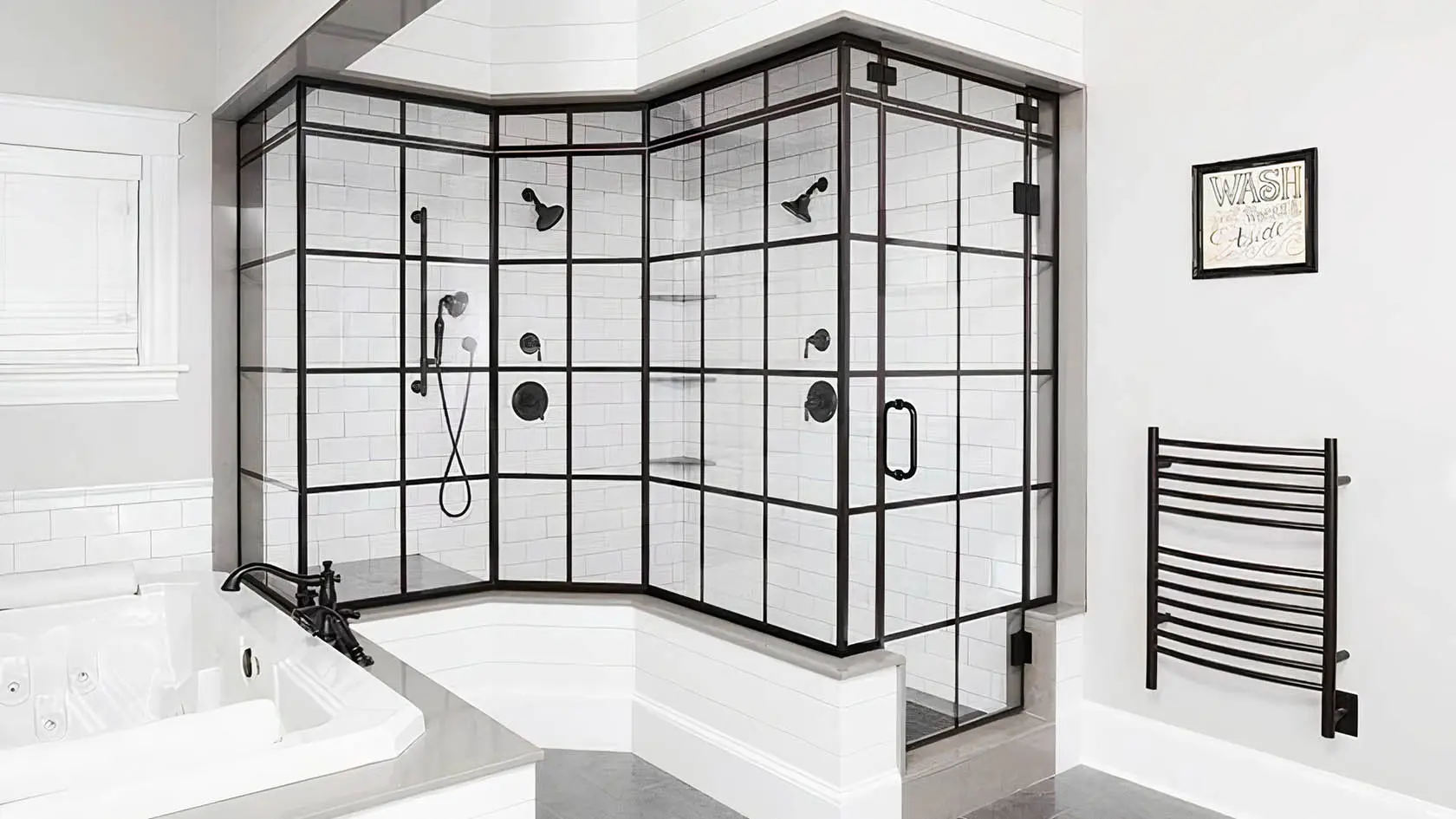 Artistic, inspiring, and functional. Beautiful solutions start with beautiful glass. Since 1948, the metal and glass specialists at Cardinal have been perfecting the art of functional design.
Today, Cardinal is at the forefront in Commercial Glazing Systems, offering the best in storefronts, entrances, curtain walls, and window walls. In addition, we offer innovative interior wall systems and specialty glass systems.
To provide our customers with a range of choices when designing shower enclosure and glazing systems, we offer a number of extrusion coating options, both powder coating, and anodization. Our advanced, in-house powder coat facilities ensure our customers enjoy a wide selection of color choices without sacrificing turnaround time. Cardinal offers more innovative glass solutions than ever before.
Shower Enclosures
Cardinal Select Finishings
The Bathroom Of Your Dreams
In Less Time, For Less Money
Find out how you can remodel your bathroom at a fraction of the cost of a traditional remodel and can be completed in just one day. Choose from a variety of solid surfaces in colors, patterns, and options to design a bathroom that fits your personal style.
Innovative Bath Solutions
Customer Reviews
Contact Us
Get A Consultation
Save Up To $500.00
Or No Money Down, No Interest For 12-Months If Paid In Full
On New Walk-in Shower, Bath System, or Complete Bathroom Remodel
Offer Valid From 03/21/2023 to 04/10/2023
Innovative Bath Solutions
1051 Albright Rd, Suite 209
Rock Hill, SC 29730
(803) 396-3908
We Come Directly to You
Mon-Fri 9:00 AM to 4:30 PM
Closed on holidays
Easter Sales Event
Save Up To $500.00 with a Complete Bathroom Remodel, New Bath System, Walk-in Shower System, or Tub to Shower Conversion. Offer ends April 10, 2023.
Or Finance Your New Bathroom Project with No Money Down, No Interest for 12-months If Paid In Full For Any Bathroom Remodel Project, including Tub to Shower Conversion.
Terms & Conditions
All promotional offers run on a limited basis and are valid under the following conditions:
One offer per new customer
Offer must be redeemed at time of estimate
Offer cannot be combined with any other offer
Previous orders and estimates are excluded
Finance Options Terms & Conditions - Learn More